Event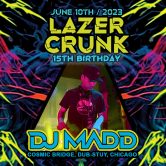 LAZERCRUNK 15 Year Anny! w/ DJ MADD (Chicago)
Location:

Pittsburgh

Venue:

Brillobox

Length:

09:00 pm
LAZERCRUNK turns 15 years old, blows out the candles, brings you:
DJ MADD ( Cosmic Bridge, Dub-Stuy – Chicago)

https://instagram.com/djmaddbeats
https://djmadd.bandcamp.com
On our bucket list of DJs for years now, DJ Madd is one of the foremost producers bringing dubwise and bone-shaking bass to modern sound-systems. His signature sound pulls strong influence from jungle, dubstep, reggae, dub and drum n bass, while creating something unique at the same time. A production hit-rate of damn near 100% results in banger after banger release from his Chicago-based studio, put out on amazing labels like Dub-stuy, Cosmic Bridge, Black Box, Boka and more. We can't welcome him to our home away from home, Brillobox!
CUTUPS & KEEBS
As per usual, your friendly neighborhood resident djs will also be swinging in to drop some jams for ya.
**NOW WITH UPGRADED LASERS!**
2x 5.5W and 2x 3W of air piercing lasers will set the scene visually while our DJs set it sonically.
LAZERCRUNK is proud to be Pittsburgh's longest running electronic music event, starting before dubstep was even a thing and bringing the freshest sounds of upfront, bass-driven dance music to Brillobox and other venues ever since. We don't care about having the biggest parties or confining ourselves to ourselves to specific styles or labels, but we *do* care about putting together high quality artists with unique visual environments and cultivating a place where everyone feels welcome to let loose and get down.
Brillobox
4104 Penn Ave
21+