events
Fri Aug 6th | LAZERCRUNK & B.RICH Invade Mexico City with guest THE CAPTAIN (T&B/NYC) | Mexico City Restaurant
brillobox is closed this week, so we decided to take this opportunity to team upwith b.rich for a fun weekender in a different spot. pretty stoked to use this space above the wood st mexico city! – cutups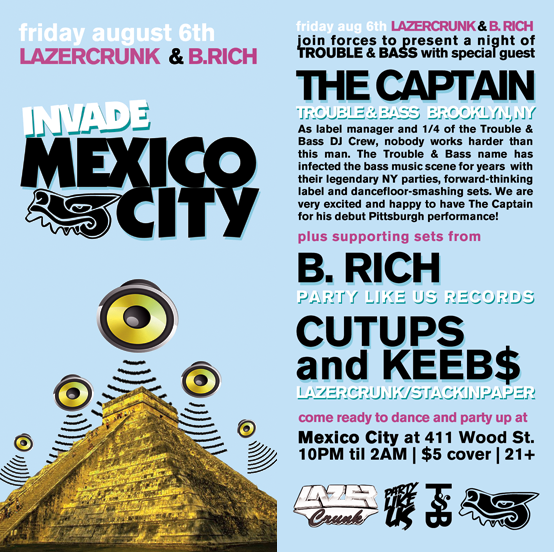 LazerCrunk & B. Rich Invade Mexico City
w/ very special guest
THE CAPTAIN (TROUBLE & BASS – Brooklyn, NY)
http://www.troubleandbass.com
As label manager and 1/4 of the Trouble & Bass DJ Crew, nobody works harder than this man. The Trouble & Bass name has infected the bass music scene for years with their legendary NY parties, forward-thinking label, bangin' DJ sets and live performances. We are very excited and happy to have The Captain for his debut Pittsburgh show!
Download the Trouble & Bass SMASHCAST #13 featuring THE CAPTAIN:
http://www.troubleandbass.com/blog/trouble-bass-smashcast-episode-13-the-captain
Supporting sets by:
B. Rich (Party Like Us)
Cutups & Keeb$ (LazerCrunk, StackinPaper.Com)
This event will take place on the new second floor of Mexico City's Wood St location downtown (just blocks from the Wood St. train stop). We've got a spacious area that we'll fill with lots of lazers, subs, trouble & bass.
We will also be taking PRESALES on brand new Trouble & Bass t-shirts which you can pick up at the event. More details coming very soon.
Location: Mexico City @ 411 Wood Street, Downtown Pittsburgh
Time: 10pm – 2am
Entry: $5 / 21+