events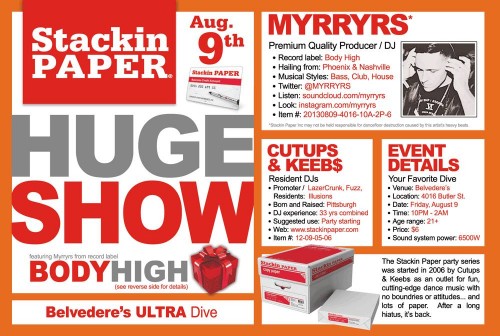 Fri Aug 9th STACKIN PAPER "HUGE SHOW" w/ Myrryrs @ Belvederes
Are you in the market to STACK PAPER?
We'll you're in luck, because on Friday August 9th,
you can come to the:
S T A C K I N P A P E R
* HUGE SHOW *
With some of the tallest stacks (of speakers)
that you'll find anywhere!
Be sure to check out deals such as:
premium heavy weight bond quality dj
MYRRYRS
[body high / phoenix]
perfect for your club, bass and house needs!
and don't forget to pick up
CUTUPS & KEEB$
[lazer crunk / fuzz / illusions / pgh]
with over 30 years behind the decks,
they're a trusted name in party starting!
this all takes place at our spacious downtown
lawrenceville warehouse
BELVEDERE'S ULTRA DIVE
4016 Butler Street
$6 cover / 10PM – 2AM / 21+
*This will be a smoke free night*
(There is re-entry for those who do want to go out front to smoke)
The STACKIN PAPER company was founded by cutups & keeb$ in 2006 as an outlet for fun, cutting edge dance music with no boundaries or attitudes…and lots of paper. After a long hiatus, it's back!