events
RUCKUSROBOTICUS, Johnny Jitters, Keeb$ and X-ray on Sat Nov 15th at Belvederes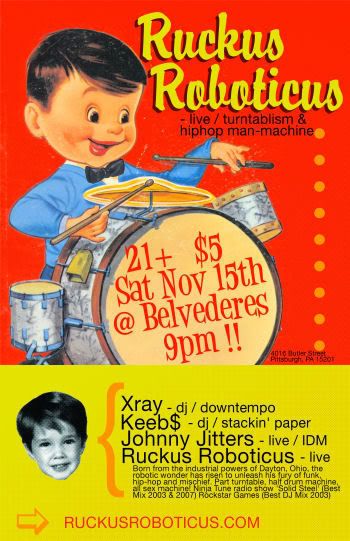 Saturday Nov 15th 2008
RUCKUS ROBOTICUS – Live PA / Dancey HipHop / Turntablism / Ohio
http://www.myspace.com/ruckusroboticusmusic
Born from the industrial powers of Dayton, Ohio, Ruckus Roboticus has risen to unleash his fury of funk, hip-hop and mischief. Part turntable, half drum machine, all sex machine; the robotic wonder has continually electrified listeners with his colorful and imaginative world of sound.
a live clip in columbus
http://www.youtube.com/watch?v=28vQ7MzrC-A
with
JOHNNY JITTERS – Live PA / Experimental / IDM / Pittsburgh
http://www.myspace.com/johnnyjitters
KEEB$ -Â Â Dj / Stackin' Paper / 412dnb / Pittsburgh
XRAY – Dj / Downtempo / Pittsburgh
November 15th 2008 * 9pm
21+ * $5 cover * drink special!
Belvederes
4016 Butler st.
Pittsburgh, PA 15201