events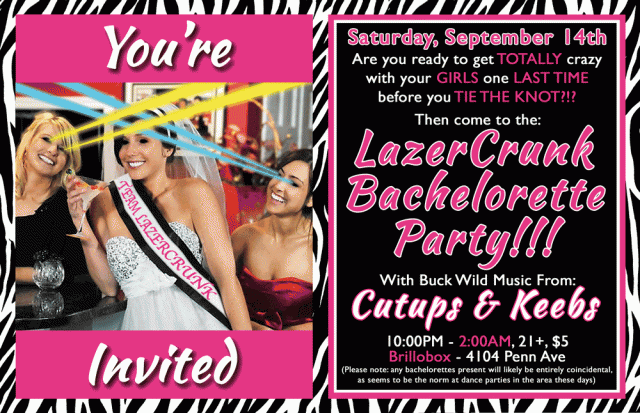 Sat Sept 14th LAZERCRUNK "Bachelorette Party" w/ Cutups & Keeb$ @ Brillobox
YOU'RE INVITED!
saturday september 14th
OMG, are you ready to get TOTALLY crazy (wasted)
with your GIRLS one LAST TIME
before you finally TIE THE KNOTT?!?

then come to the
LAZERCRUNK
"Bachelorette Party!!!"
with buck wild music from
CUTUPS & KEEB$
And plenty of absurd, bachelorette party themed
stupidness, for people of all genders.
DISCLAIMER:
Any actual bachelorettes present will likely be entirely coincidental,
as it seems to be the norm at dance parties in the area these days.
10PM – 2AM, 21+, $3 for all BACHELORETTES before 11, $5 after
at the Brillobox 4104 Penn Ave